I just love the smell of onions and green peppers cooking away! Throw in some potatoes slices and I can make a meal of this dish. My precious Mama would brown hamburger meat first then add the potatoes, onions and peppers. Sometimes I add mushrooms, also. Served with a hunk of bread and this is comfort food to me. <3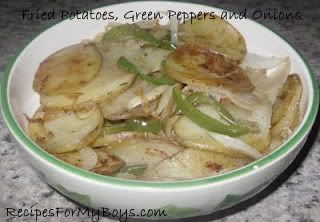 Fried Potatoes, Onions and Green Peppers
4 to 6 medium potatoes, however many you need
1 small to medium onion
1 small green pepper
sea salt, to taste
freshly ground pepper, to taste
coarse ground garlic with parsley, to taste


Cut potatoes into slices, place in bowl and covered with water with a teaspoon of salt. Refrigerate. Keeps them fresh and they don't turn.
Spray skillet and heat to medium/medium high. Add potatoes and sprinkle with salt, pepper and garlic. Add onions and peppers...season again.
Cook until a little brown on the bottom and flip. Cook until all vegetables are tender and brown.